Altra Concrete offers a Polyaspartic Floor Coating as an alternative concrete flooring solution for the Windsor, Sarnia, Chatham, and Leamington Ontario regions. Polyaspartics is a technologically advanced resin that combines all the advantages of other epoxy and urethane coatings.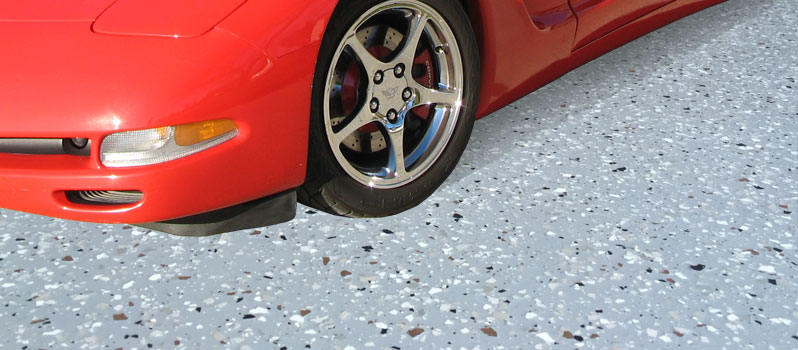 What Is Polyaspartics?
Polyaspartic resin is an industrial hybrid coating similar to polyurethane. It is a highly durable, high-performance coating. Polyaspartic floor coatings offer scratch and chemical resistance, anti-slip, and superior adhesion to concrete. Unlike epoxy and polyurethane coating systems, we can install a polyaspartic floor coating in just hours, not days.
Advantages of a Polyaspartic Floor Coating
So what makes Polyaspartics so great? In addition to its durability and resistance to various chemicals, Polyaspartic floor coatings have advantages that make it the best choice for your concrete flooring solution.
Easy to clean, resists oil and chemical spills, salt
Does not stain or yellow with age
Stands up to extreme temperatures and remains flexible in freezing cold
Can be applied year-round in any weather
Lower VOC coatings are available making it safer for application in confined spaces where there is less ventilation
Polyaspartic flooring cures rapidly – applications can be completed in one day and can be walked on 6 hours after the job is done
Application Process
Our Atra Concrete professionals apply polyaspartic floor coatings using the same methods as epoxy and urethane concrete flooring. However, the job process is faster because polyaspartic resin dries faster and requires only one coat resulting in less disruption.
We begin by grinding the surface of your existing concrete floor with a diamond head grinder. This opens the porous surface of the concrete for adhesion of the new floor coating. After grinding down your existing floor, we take the opportunity to perform leveling as necessary,fix any cracks or other imperfections, and remove stains, coatings or adhesives from previous treatments.
For a FREE, no obligation quote on treating your concrete floor with a new polyaspartic floor coating, call us or send us a quick email.
Service Area
Our service area for polyaspartic epoxy flooring includes Windsor, Sarnia, London, Hamilton, Chatham, Leamington, and all the small municipalities in between.