Institutional Floor Systems that are Durable, Safe, and Clean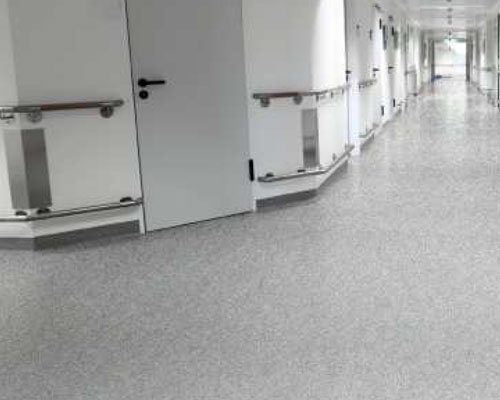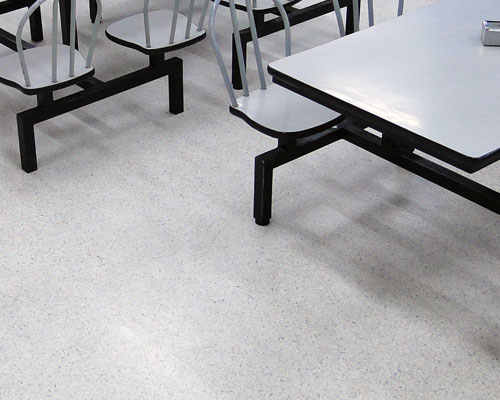 In most cases institutions in Southwestern Ontario request epoxy flooring systems because the benefits are extensive. Where high traffic can be expected it's wise to go a flooring system that has superior durability, is easy to maintain, and is seamless – meaning no openings where bacteria can hide.
For the majority of the institutional concrete flooring jobs we have completed in the Windsor, Sarnia, Chatham, and Leamington Ontario regions, we have installed seamless finishes with an integral cove base to help control pathogens and mold growth. We also make sure all flooring surfaces are slip resistant.
The concrete flooring systems we install are skid resistant making the surface area easier to clean. For washrooms, we use an antimicrobial floor resin, which helps prevent the growth of bacteria.
Look and Feel
With so many different colors and patterns to choose from you can select a floor coating system that fosters learning principals. The use of bright colours can convey a fun and positive learning environment for young children. More subdued tones can promote concentration in older students. A clean and attractive floor finish with your school or team logo can encourage community and team spirit.
Institutional Concrete Floor Environments
Primary / Secondary Schools
Colleges / Universities
Private Schools
Hospital / Health Care Flooring
Churches
Fire / Police Departments
For a FREE, no obligation quote on having an epoxy coating applied to your concrete floor, call us, or send us a quick email.
Service Area
Includes Windsor, Sarnia, Chatham, London, Hamilton, and all the small communities in between.