A Long-lasting and Cost Effective Flooring Solution
Polished concrete floors provide a unique flooring solution that is long lasting, attractive, and easy to care for. They can be customized to your personal taste and decor. Polished concrete has many advantages over traditional flooring types and is a cost effective solution to your modern flooring needs.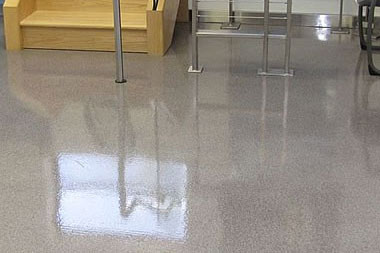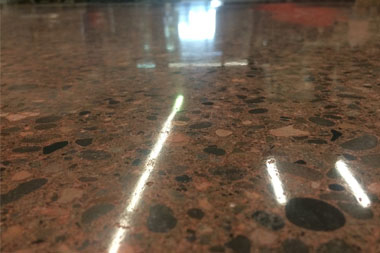 Altra Concrete will begin your concrete floor refinishing by grinding down the surface to remove any imperfections, stains and adhesives from previous flooring treatments. Through a process of grinding and polishing, we will achieve the desired smoothness and shine. The proper hardeners and sealers are than applied to protect the surface of the concrete prior to beginning the decorative work.
Due to its many benefits, polished concrete floors are a popular and practical choice for many applications including residential, commercial, institutional and industrial settings.
Polished Concrete Flooring Advantages
Durability – The lifespan of polished concrete floors far exceeds that of other flooring options. It stands up to rigorous abuse by the high traffic demands of both people and equipment as well as being impact and stain resistant.
Low Maintenance – Polished concrete floors that are properly installed and sealed can last a hundred years or more with simple, regular maintenance. No waxing or stripping are required, just weekly damp mopping to remove dirt, grime, and scuff marks. Grease, oil, paint and other chemicals can easily be wiped up without leaving stains.
Cost Effective – The cost of a polished concrete floor spread out over its lifetime means that this flooring solution is worth its savings. It requires little or no extra money to maintain and does not need to be replaced or repaired like other flooring treatments.
Attractive – With a large range of colours, textures and custom design possibilities, polished concrete is a unique architectural canvas to bring color or purpose to your decor.
Sanitation – The surface of a polished concrete flooring system is non-porous. It is resistant to penetrations by liquids, chemicals, dirt, bacteria, and other contaminants, and is easy to keep clean. This makes polished concrete the perfect type of flooring for industries that require a higher level of compliance to health and safety standards, such as hospitals, restaurants, and food processing facilities.
Health and Safety – For increased compliance with health and safety standards, we can add non-slip epoxy and aggregates for increased traction. Visual markings can be included in the design to indicate safety areas and danger zones.
Increased Ambient Lighting – The high gloss finish of polished concrete reflects both natural and artificial light resulting in increased lighting and visibility.
Environmentally Friendly – Unlike carpeting, wood laminate, and vinyl flooring, polished concrete does not contain Volatile Organic Compounds (VOC) which can result in respiratory difficulties and other health issues.
Service Area
Our service area for polished concrete floors includes Windsor, Sarnia, London, Hamilton, Chatham, Leamington, and all the small municipalities in between.
Contact us for a no obligation free estimate.